DRYWALL SERVICES
Drywall Supply delivers all types of drywall, steel stud, insulation, and other drywall supplies directly to residential and commercial jobs. We deliver using semi trucks, semis with piggy back, straight trucks, and boom trucks of multiple lengths.
All of our drivers are certified for crane operation, and we're one of only two companies in our region with a long reach boom. This 90-foot crane can reach up to nine stories for loading drywall, allowing us to service a wider variety of commercial jobsites than most other distributors.
With our background and experience in drywall contracting, we understand the importance of keeping a job schedule. We pre-check as many jobsites as our schedule allows. That way, we ensure that the materials can be safely and properly delivered to avoid wasted time and resources.
Contact us to place an order or learn more about our drywall delivery services.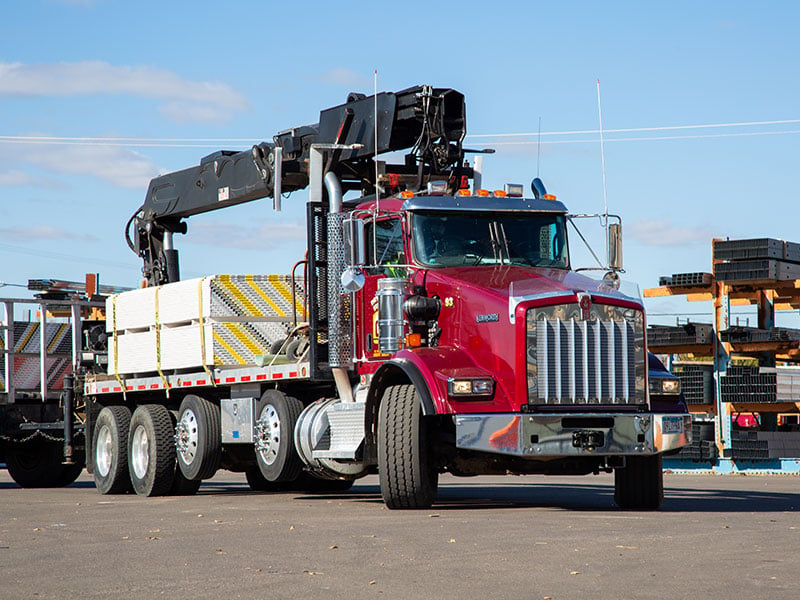 Customer Testimonials
Don, I just wanted to say thank you for all your assistance when we call to place orders. Your willingness to research the right products to meet the specifications of the particular project gives us a great sense of relief, always knowing we can rest assured that you've double-checked for compliance. Not only are you accurate in the writing of...
Drywall Estimator
Denali Drywall, Inc., West Fargo, ND
Drywall Supply is my first choice for all my drywall and steel stud needs! They are very reliable and their prices are generally lower than other suppliers. They're a company that's willing to work with you to solve problems, and they go out of their way to make sure you have whatever you need when you need it.
Tim McCracken
ProCon Inc., Faribault, MN
I am happy and grateful for the opportunity to write share how amazing the service is at Drywall Supply! I have been doing business with Drywall Supply as my main supplier since I was a young kid of 18 years. It's been years and times have changed in our industry, but the timeless service of Drywall Supply is the same today as it was when I first...
Alex Semerikov
SGC Drywall LLC, West Fargo, ND
For the past 20+ years I have had the opportunity to work with Dan at Drywall Supply's Wadena, MN location. He and the entire Drywall Supply crew have been great to work with. From pricing to delivery, they make the entire process very easy. Even on last-minute job changes they do everything they can to get the needed materials to the site in a...
Ray Schlangen
Regal Contractors, Inc., Waite Park, MN
Drywall Supply has made ordering and scheduling the deliveries of our construction materials a breeze. They are very professional and have always offered our business the best and most competitive prices. The customer service is exceptional and they always honor the schedule! 10/10 would recommend!
Chuck Daley
Ultimate Drywall, Blaine, MN